Although Belgium would certainly top most people's list of most interesting beer destination in Europe, the German beer loving region of Franconia (in northern Bavaria) provides stiff competition.
Currently there are over 300 breweries and brewpubs in the region, creating styles of beer not seen anywhere else in the world.  On a trip to Franconia in November of 2009, I experienced first hand this relatively unknown kingdom of artisanal beer culture.
Germany, and specifically Bavaria is famous for its beer.  Sadly, a lot of what gets transported to the United States is a heat damaged, dusty, pasteurized version of what is enjoyed there.  More importantly perhaps, its hard to gain an understanding of German beer culture without the proper setting; a cozy Gasthaus or tavern or a beer garden surrounded by oak trees filled with the happy energy of a beer loving culture.  Franconia leads the German regions for number of breweries per capita and per square kilometer, and the majority of the beer made in the area is for local consumption. There is really no better place to go for beer made locally for the locals!
Home not only to a stunning number of breweries, beer halls, beer gardens and beer guest houses (a recent German language guide listed 631 total), Franconia can also lay claim to having the widest array of beer styles in Germany, from the sublime cask conditioned Ungespundet Lager, to the robust, bacony Rauchbier, to the king of dark malty lagers, the Eisbock and many more in between.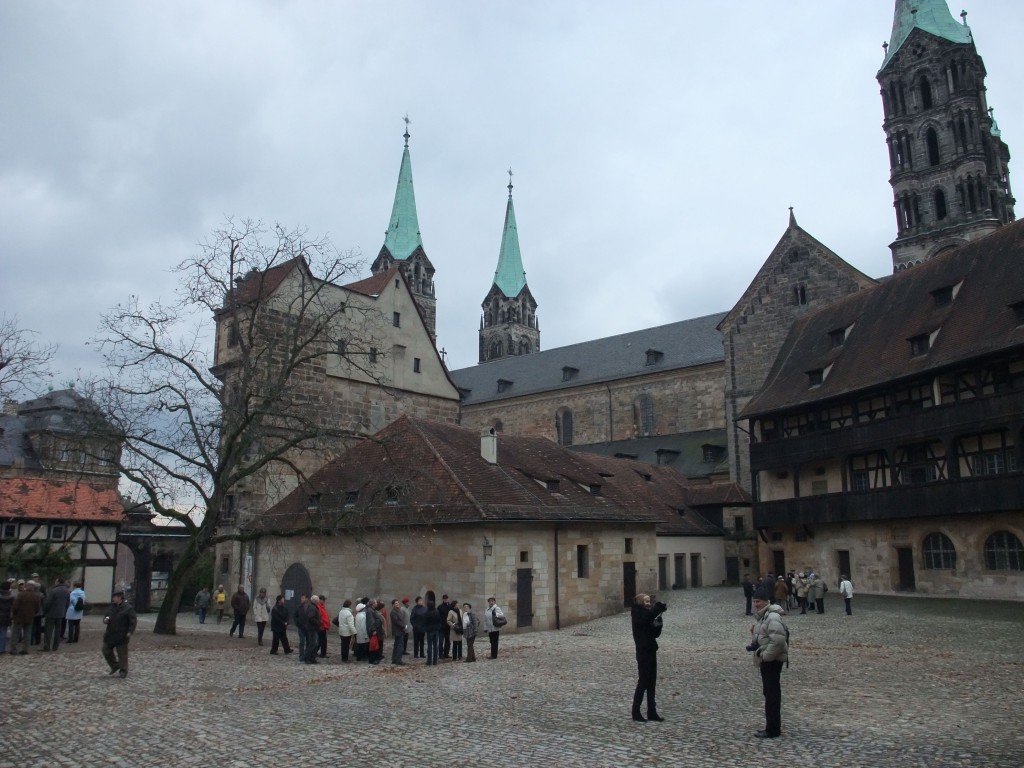 The city of Bamberg, nestled in the heart of Franconia is the capital of Franconian beer culture.  Home to nine breweries, and Weyermann Malt, the world's leading producer of specialty beer malt, Bamberg literally lives and breathes beer.  Not that beer is the reason most tourists visit this city.  On the UNESCO world heritage site, Bamberg is a stunningly beautiful city with a massive Romanesque cathedral perched upon one of the seven hills that make up the town.
One might easily spend several blissful days touring the winding streets of the old city, peering in to the beautiful churches and wandering along the mossy banked waterways of the city without realizing they are in the heart of beer country.  Luckily or unluckily depending on how you look at it,  I was able to avoid the charms of the city and focus on the beer for two reasons:
#1  My trip fell in the middle of November and it was cold, wet and gray. (I would highly recommend a late spring or summer visit although the city will be swarming with tourists)
#2  I came armed with a guide an indispensable guide to Franconian beer culture, "The Beer Drinkers Guide to Bamberg", by Fred Waltman, who also curates an online guide to Franconian beer culture.  Available online as a pdf for a nominal fee, I wouldn't visit Bamberg without it.
Even if you were to somehow lose the guide however after a few too many pints of Schlenkerla, the people of Bamberg would be more than happy to give you tips on where to go and what to drink.  Speaking to the natives in German or English (no problem finding English speakers in Germany of course!) you will get to the heart of the Franconian culture and that wonderful feeling of gemütlichkeit.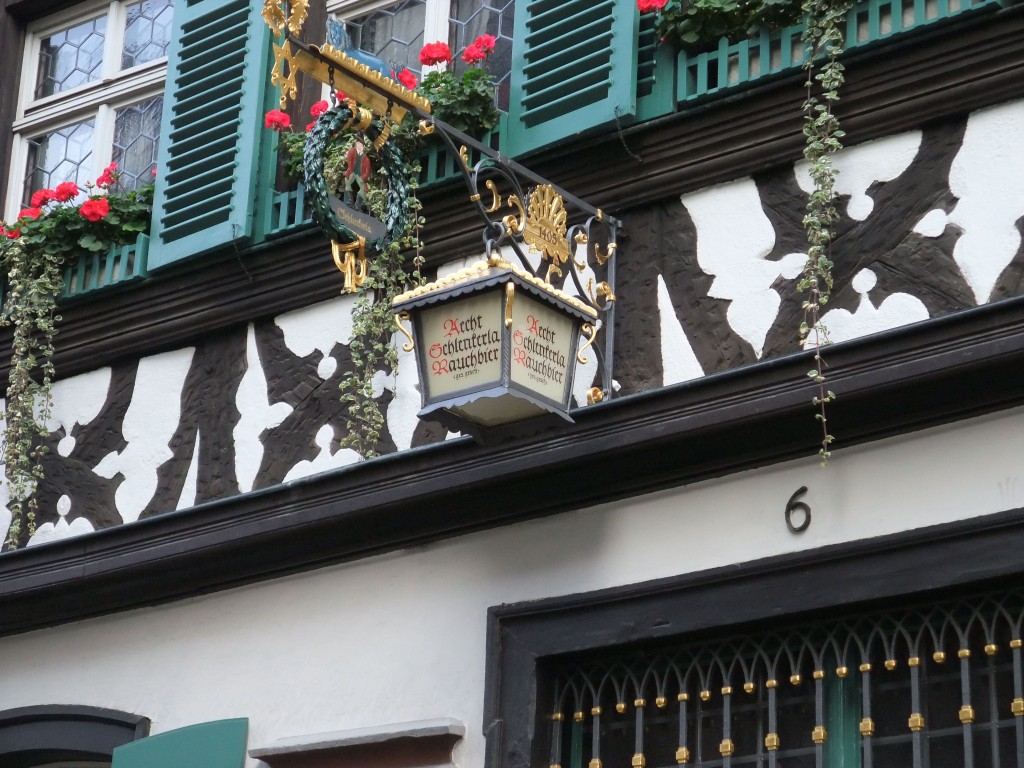 I visited probably a dozen more brew pubs than the average tourist interested in things non-beer might want to see, but my must-see favorites are listed below.
Brauereiaushank Schlenkerla  A trip to Bamberg would not be complete without visiting the most famous producer of Rauchbier, Aecht Schlenkerla.  Schlenkerla has been run by same family since 1877, although the tavern in the heart of the city has been serving beer 1405.  In their brewery just a few kilometers away Schlenkerla produces a several styles of smoked lager including their flagship beer a  Märzen. Enjoy a glass of the amber colored smokey stuff with some locally made liverwurst or an order of "beer cheese" and dark bread. Dominikanerstrasse 6, 96052 Bamberg, open daily
Mahr's Bräu  Just a few doors down from Brauerei Keesmann is the cozy Mahr's Gausthaus.  Built in 1670, it wooden benches, soft lighting and warm stove invite one to stay and chat with the old timers over their signature brew, an unfiltered lager simply called "U" (pronounced "ew"), short for Ungespundes Lager. Absolutely a must.  If you visit Bamberg in the right season, you should also sample their Helles Bock, which is deceptively smooth and delicious for over 6% abv. Wunderburg 10, 96050 Bamberg, open daily
Brauerei Keesmann I was particularly interested to try the beer from Brauerei Keesmann, as it is not available in the United States.  I arrived around lunch time and sat at one of the communal tables  next to several older gentleman and woman, who turned out to be Mrs. Keesmann!  She recommended their Pilsner, which was fantastic, especially with a hearty platter of traditional Franconian cold cuts and cheeses. Wunderburg 5, 96050 Bamberg, closed Sundays
Spezial Keller  Spezial is another brewery specializing in smoked beers, although they also make a wonderful Ungespundes Lager that is not smoked.  While their brewpub is cozy, dark and traditionally Franconian, I would recommend their beer "cellar", which sits upon the top of a hill north of the old town, providing a beautiful outlook down onto the city.  The term beer cellar in Franconia might be confusing to tourists who picture a subterranean cave. Anywhere else in Germany, a Franconian beer cellar would be a beer garden, so picture trees, open air, sunlight and fresh beer. Oberer Stephansberg 47, 96049 Bamberg, closed Mondays
A beer focused trip to Bamberg would not be complete without hitting the open road (or bicycle path as it were) and visiting a Franconia Gasthaus or three.  There are literally dozens of small village breweries within easy biking distance of Bamberg all connected by immaculately maintained and sign-posted bicycle paths.
One place I found had particularly good beer was in the village of Buttenheim, just an hour south of Bamberg by bicycle.  Visit Löwenbräu (Marktstraβe 8, 96155 Buttenheim) for a taste of a traditional Franconian country guest house.  Fresh beer brewed literally next door, paired with hearty, rustic fare.