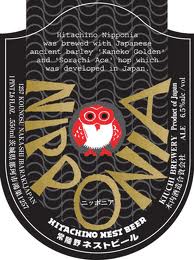 June 2012
Craft beer from Japan in the US?  If you are extremely lucky in some parts of this country, you are able to find the excellent and unusual beer selections from Kiuchi brewery under the name Hitachino Nest.  The adorable owl crest is one of the only craft beers exported to urban centers of the US, but there are many, many other craft breweries in Japan that never make it here at all.   As a craft beer fan living in New York, I find it mystifying annoying that most of the Japanese restaurants here still carry the ubiquitous blandly perfected lagers from Kirin or Sapporo, even though other, far superior options are readily available from local beer distributors.  A real shame.
So it was with palpably visible excitement that I mapped out some Tokyo beer lover's destinations as my fiance and I planned a short trip to Japan.  We knew that only three days in Tokyo would be barely adequate to see the city, let alone really delve into Japanese culture. Luckily we had Shinji Nohara as our guide to the city, a knowledgeable Tokyo native who helped us jump right in. He also just happened to be a big craft beer fan!
With just a few days to see everything (some favorite non-beer spots: Koishikawa Korakuen Garden for a quiet contemplative stroll, Tokyo Hands – the "everything store"- they are not kidding!, the Tsukiji Fish Market – amazing sushi culture!, and the Sensoji Temple-the largest temple in Tokyo) we didn't have time to go out of the city and visit a Japanese brewery, but there were dozens of excellent bars in the city serving a wide range of craft Japanese beer on draft.  More on this below!
Tokyo is a massive city, 30+ million inhabitants and counting, and can be a little overwhelming even for seasoned city slickers.  The public transportation system is fantastic and while complicated at first, makes getting to most locations in the city very easy.  Later at night, taxis are always an option too, but you will pay dearly for the convenience (a late night 15-20 minute ride set us back about $15USD). Long days spent shopping and sightseeing gave us a thirst that could just not be quenched by vending machine beer, although it was readily available!
So where to find amazing beer if your time in Tokyo is limited?  I would highly recommend planning pub visits by neighborhood as distances on the metro can be quite long given the size of the city.  We were lucky enough to be staying the Shibuya neighborhood, close to Roppongi meaning there were lots of great options available.  An indispensable resource both before and during the trip was the English  language website Beer in Japan.  Easily the best site for honest reviews, information and news on craft beer in Japan.  I wish there was as comprehensive and excellent a beer website for countries like Belgium or Germany….maybe one day!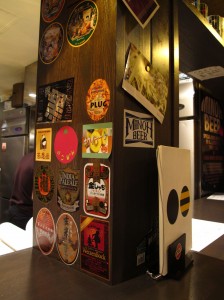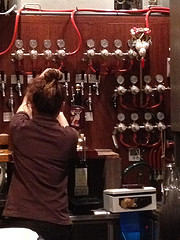 On to the beer.  One of the first places we stopped was the relative new comer Ant n Bee a tiny pub downstairs from a larger, less exciting bar called "Abbots Choice".  Opened in late November of 2011, Ant n Bee offers an all Japanese craft beer menu with 22 tap lines, small but interesting food menu and an extensive list of whiskey as well. The keg room is right next to the minuscule bar/food preparatory area and the first thing draft beer fans will notice is that every tap had its own regulator.  Draft beer geek heaven.  (After visiting a few bars in Tokyo, I discovered this is normal procedure!) Ant n Bee had great character, many interesting beers and delicious pubby food (we loved the fried octopus)!  Highly recommended, especially for smaller parties.
Ant n Bee   Address: B1F,  5-1-5,  Roppongi, Minato-ku. Tokyo  (Under Abbot' s Choice)
Another place we went to that was the polar opposite to Ant n Bee was called Faucets, in the heart of the Shibuya shopping district maelstrom.  We tried to go to the highly recommend "British beer pub" the Aldgate a few blocks away, but they were closed for a private party.  Where Ant n Bee is cozy and intimate, Faucets is big and shiny with a slightly industrial feel.  Friendly staff and a great selection of beer 40 taps wide (the strong suits were Japanese Craft of course, and surprisingly California: Stone, Bear Republic and Ballast Point were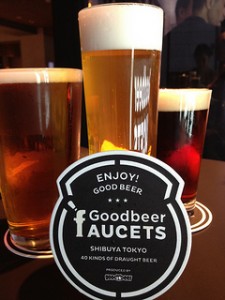 all on draft) make it a good spot to escape the shopping mania outside.
Faucets Shibuya Tokyo Address: 1-29-1 CROSSROADSビル 2F Shoto, Shibuya-ku, Tokyo
Our only regret was that we did not make it to the famous Popeye Pub in Ryogoku (a solid hour plus subway ride from Shibuya with transfers necessary).  Popeye is supposedly the best beer bar in Tokyo if not in Japan!  On the list for next time.